Preparation of Fluorescent Carbon-Based Dots from Waste Tire Pyrolysis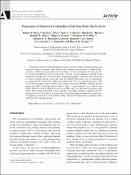 Arquivos
Autores
PARRA, JULIANA B.
SILVA, KARINA C.
VALEZIN, PEDRO A. S.
MARTINS, RAPHAEL G.
GOMES, RODOLFO R.
PEREIRA, RAFAEL S.
MELO, FERNANDO M. DE
Andreia De Araújo Morandim Giannetti
SANTOS, RONALDO G. DOS
PANZARINI, LUZ CONSUELO G. A.
TOYAMA, MARCOS M.
Periódico
JOURNAL OF THE BRAZILIAN CHEMICAL SOCIETY
Citação
SILVA, K. C.; VALEZIN, P. A. S.; MARTINS, R. G.; GOMES, R. R.; PEREIRA, R. S. MELO, F. M. DE; ANDREIA DE A. M. G.; SANTOS, R G. DOS PANZARINI, L.C. G. A.; TOYAMA, M. M. Preparation of fluorescent carbon-based dots from waste tire pyrolysis. JOURNAL OF THE BRAZILIAN CHEMICAL SOCIETY, v. 31, n. 11, p. 2224-2231, 2020.
Palavras-chave
Waste tire
,
Pyrolysis
,
Carbon-based dots
,
Quantum-dots
Resumo
The pyrolysis of waste tire has been proposed as an alternative route to its recycling producing residual oils that can be used as fuels. In this work, a physicochemical process to obtain carbonbased dots (CBD) from carbon black (CBL) derivatives of tires is described. For this, the CBL was treated with different acids to produce CBL1 and CBL2 particles suspension. The pH of the suspension was adjusted to 5.6 to precipitate remaining impurities. Afterwards, the supernatant was ultra-centrifuged and the yellow pale solid, the purified CBD obtained by roto evaporation, was characterized by ultraviolet-visible spectrophotometer (UV-Vis), photoluminescence (PL) at 320-380 nm, high-resolution transmission electron microscopy (HRTEM), scanning electron microscopy (SEM), thermogravimetric analysis (TGA), energy-dispersive X-ray spectroscopy (EDX), Fourier transform infrared microscopy (µFTIR), and X-ray photoelectron spectroscopy (XPS). This material showed the typical excitation wavelength dependent emission and a PL quantum yield of 19.29% and was constituted by a well-defined spherical shaped and single sheets of "graphene quantum dots" with undefined shape, with potential applications in optoelectronic and fluorescence imaging devices.
Coleções