Methods and concepts for elaborating a decision aided tool for optimizing healthcare medicines dispatching flows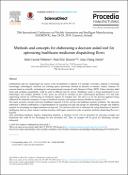 Arquivos
Autores
PINHEIRO, JULIA CASSIM
DOSSOU, PAUL-ERIC
João Chang Junior
Citação
PINHEIRO, J. C.; DOSSOU, P. E.; CHANG JUNIOR, J. Methods and concepts for elaborating a decision aided tool for optimizing healthcare medicines dispatching flows. Propdedia Manufacturing, v. 38, p. 209-216, 2019.
Palavras-chave
dispatching flow optimization
,
decision aided tool
,
machine learning
,
healthcare logistics 4.0
Resumo
Globalization and new technologies are causes of the development of industry 4.0 concepts. Nowadays, Industry is becoming increasingly technological, machines are reaching spaces previously destined in factories to humans. Indeed, industry 4.0 concepts based on scientific, technological, and organizational concepts & tools (Internet of thing, RFID, Cobots, decision aided tools) and including sustainability could be used in different activity sectors. Healthcare sector is being transformed by new technologies and complex problems of this sector are solved by insisting on new technological parameters. FEI and Icam engineering schools are collaborating on healthcare logistics & transport area. The idea is to use the previous approach being elaborated for industrial companies to improve healthcare logistics and transport domain (Healthcare logistics 4.0). This paper presents concepts and tools (healthcare logistics 4.0) for solving real healthcare logistics problems. The approach elaborated is hybrid (combination of experimentation for acquiring real data and design for elaborating concepts and methods required for developing an adapted problem-solving tool). The decision aided tool is elaborated by using formalisms of artificial intelligence (such as expert systems, machine learning, multi-agent systems) in order to optimize medicine dispatching flows in a hospital. After describing healthcare logistics dispatching problems, a literature review will be presented for choosing concepts and formalisms that could be for developing the new decisional tool. Then, an example will be given for illustrating concepts elaborated.
Coleções