Sustainable procurement practices in the Brazilian chemical industry context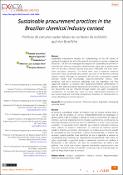 Arquivos
Autores
PIÃO, ROBERTA SOUZA
IDE, MAYARA SAYURI
Gabriela Scur
CAMPOS-SILVA, WILLERSON LUCAS
KHORANA, SANGEETA
Citação
PIÃO, R. S.; IDE, M. S.; SCUR, G.; CAMPOS-SILVA, W. L.; KHORANA, S. Sustainable procurement practices in the Brazilian chemical industry context. Exacta (ONLINE), v. 18, n. 3, p. 583-602, 2020.
Palavras-chave
sustainable procurement
,
chemical industry
,
regulation
,
developing countries
,
Brazil
Resumo
Sustainable procurement requires an understanding of the full impact of purchase throughout the entire life cycle of the product or service, irrespective of location. The aim is to investigate the adoption of sustainable procurement in some Brazilian chemical companies. Questionnaires were sent to professionals from the Brazilian Chemical Industry Association (ABIQUIM) and from thirtyseven associated companies. The results were used to elaborate empirical illustrations about sustainable procurement practices in the Brazilian chemical industry context. Although the companies did not have a prescriptive supplier selection model that incorporates social-environmental criteria, most companies had more restrictive standards than the legislation and they supported suppliers to improve their social-environmental performance. In addition, that actions related to social and environmental issues occur in policies and documents and are reflected through middle and upper management commitments. It indicates that there are some organizational directions to incorporate social and environmental questions. However, no materialization in actions along the procurement process.
Coleções