Effects of Milling pH and Hydrothermal Treatment on Formation of Nanostructured Boehmite Binder for Alumina Extrusion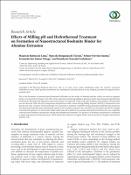 Arquivos
Autores
LIMA, M. B.ATISTA DE
TERCINI, M. B.
SANTOS, S. F.
F. S. Ortega
YOSHIMURA, HUMBERTO NAOYUKI
Citação
LIMA, M. B.; TERCINI, M. B.; SANTOS, S.Y F.; ORTEGA, F. DOS S.; YOSHIMURA, H. N. Effects of milling pH and hydrothermal treatment on formation of nanostructured boehmite binder for alumina extrusion. Journal of Nanomaterials, v. 2017, p. 1-14, 2017.
Resumo
The in situ formation of nanostructured aluminum hydroxides on the surface of alumina particles, which can work as inorganic binder, was reported in this paper.Theeffect of the suspension pH during milling of alumina powder and subsequent hydrothermal treatment for the hydroxide formation and microstructure was depicted. Under acidic pH condition, the formation of hydroxides was not observed.When the pH of suspension changed fromacidic to basic during milling, bayerite [Al(OH)3] nanoparticles were formed, but only a fraction of this hydroxide was converted to boehmite (AlOOH) during subsequent hydrothermal treatment. The aluminum hydroxide and oxyhydroxide formed in this condition improved the smoothness of extruded rods and the strength of presintered segments. For the powder milled under basic pH condition, themechanochemically formed bayerite was completely converted into boehmite nanoparticles during the hydrothermal treatment. The presence of boehmite nanoparticles contributed to improving plasticity during extrusion, which allowed the reduction of organic binder and increased the strength of presintered alumina rods.
Coleções